Click Here For
2017 Professional Photography Policies

News & Events
Christmas 2017

November 18th until December 18th
Hours of Operation
M-Sat 10am to 6:30pm Sunday 2pm to 6:30pm
(325) 896-7575
Attractions & Links
Hummer House

Christoval Vineyards

River Oaks Veterinary
Clinic
Welcome
November 18th (Please call if there is bad weather)
"A Charlie Brown Thanksgiving/A Charlie Brown Christmas" Both
of these classics will be shown back to back on our opening day
starting at 6pm outside. There will be no charge for this event;
however, seating will be limited. Please bring your own chairs/
blankets and dress appropriately for the weather. Snacks will
be for sale.

December 8th-9th
"Santa and S'mores" Join us for a special evening visiting with Santa
Claus and eating real s'mores made over an open fire. The event will
only be open to those who purchase tickets and room is limited. This
will be a family memory for years to come… Tickets will be $12 per person in advance. Please note reservations are required due to limited seating.
The Uptergrove Family wants to extend West Texas hospitality
to all our friends and neighbors to enjoy our farm. We offer a
special place where families can experience the joy of a working Christmas tree farm.
During the Christmas season you can come out to go on an old
fashion hayride; choose & cut a farm-grown tree; visit the petting
zoo; order a hand-made wreath; or pick out a special item from
the gift store.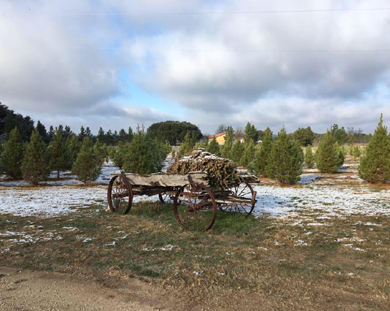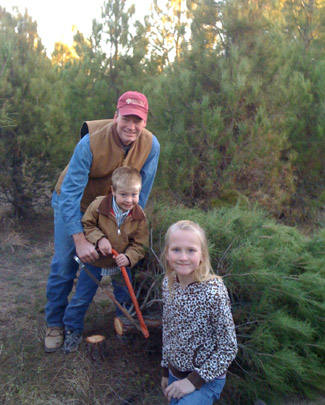 Events are being added for year around enjoyment so check
back for more information. In the meantime, experience the
relaxed atmosphere of going to a family farm this Christmas.
And yes, real Christmas trees do grow in West Texas!
The dream of starting a Christmas tree farm in West Texas
began when David and Amy Scott purchased 10 acres near the
South Concho River outside Christoval, Texas. The first seedlings
were planted in January 2002 in the fertile Concho River Valley.
They started their first selling season in 2005 offering: Choose
& Cut Afghan Pines; pre-cut Frasier Fir pines; a gift shop; and
fresh made wreaths. From then on the Scott's dream became
a family tradition for tons of families across West Texas.
In January 2011, we purchased the tree farm from David and
Amy Scott. We are following in the footsteps of the Scott's
and keeping this important family tradition available to the public.
We are also adding events as well as a Bed & Breakfast. Our
family welcomes old friends and new to experience the Concho
Christmas Tree Farm.